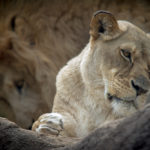 Zoo Atlanta has been around for as long as I can remember.  A few weeks ago, I finally took a morning and visited.  Atlanta and the end of May means not a ton of heat, but enough, and more humidity than most can imagine.  Living here now, I've realized that you know its humid, but you don't think about it until you finish what you were outside to do in the first place.  Maybe a blog about humidity will come later.
Zoo Atlanta is an absolutely wonderful place.  I found myself feeling like an amazed kid, seeing some of these residents in person that I'd only seen on Animal Planet.  There were a lot of parents trying to keep up with their kids, but I can understand the excitement.  I'm looking forward to getting my grandkids and my daughter and son-in-law out there one day soon.
This is a glimpse into my day there.  Enjoy!