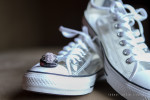 Non-stop laughter with these two, from the engagement through the entire wedding ceremony!  The epitome of two souls who are meant to be together.  In the time that i spent with them during sessions, I can't remember ever putting the camera down so much so that i could stop laughing before shooting.  This couple will be able to face anything that they encounter because I am sure they will do it together and they will do it so that there's a laugh at the end of it.
The acrylic Chuck Taylor's set the tone for the event, as all of the bridesmaids and groomsmen wore color coordinated "Chucks"!
Thank you both for letting us be present to witness the journey that you are on as a couple, and for letting us capture the images of that joining along the way.