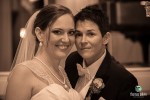 I tend to think of myself as an artist. During my painting days, I often said that what I painted was not for me to say was art.  I said that I painted and that history would determine its artistic merit.  Now, some years later, i believe that how i see things is unique and that how things are captured, either on canvas with paint, or in the images that I capture with my camera, are my own unique artistic creations.
I have always been someone who embraced emotion.  I played sports and was an emotional athlete and fan.  I LOVE what I do now.  I get to engage people who are full of emotion and it is my charge to capture that.  It's much more than merely asking someone to "pose and smile."  As an artist, it's my path to not only see the smile, but to see what brought about that smile in that particular person or couple.  It is about finding the emotion…that unspoken thing that moves us in so many ways.
Learning to use the camera has been a wonderful journey.  Sometimes frustrating, but overwhelmingly satisfying.  By no means have I learned all that there is about it; however, I have learned enough that its time to not think so much about what i need to do and spend time capturing the feeling.
Saturday night, it was all about the feeling.  June and Melissa could hardly contain their emotions for the magnitude of their moment, the passion they have for each other, nor for the relief of having gotten through the ceremony and reaching the starting line for their lives together.  It was a wonderful time and a step for me along this path.
It is a pleasure to do what I do.  To meet people on their journey and to share in their most emotional of events.  Not only at their weddings, but at significant events that mean so much.  I am beginning to open up and to be a bit more creative.  It is a room in which that I feel the most alive, the most at home.  That room of creativity where emotion lives…where I reside.