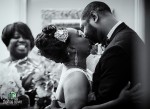 Whew! is about all that I can say after a whirlwind weekend 2nd shooting with Kevin Maurice and Kevin Maurice Photography in Columbia, SC.  He and his team are polished and even though we had to make some changes on the fly, they never missed a beat.
We were up and out before 7 a.m. to get the day started, and got back at about 9:30 p.m. to end the day.  When you look at it not as a job, but as a service, then all the time, thought and effort that go into it all makes sense.
I can tell you this…shooting weddings, capturing those wonderful moments, doesn't begin to describe what a wedding photographer does.  The bride and groom believe… no, they trust and know that the photographer they've chosen is going to treat them as family and in doing so, will give them the images that they themselves would want to have.  It is a huge responsibility that few would want, and still fewer would accept.
I hope that we were able to deliver that on saturday and i'm grateful that Kevin believed in my work enough to have allowed me the opportunity to work with him.