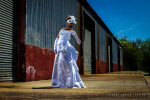 I've been far too negligent in maintaining my website.  For too long, I've let Facebook be the primary face and repository of my business. I know that shouldn't be the case.  While it is a valuable tool in creating a presence, this site should be and will go back to being, the primary face of Thomas Colvin Studios.
Having said that, I need to do some work here!  All other pages except for the blog, the About and the Contact pages will be disabled while I get them to a level of respectable representation.
I ask that you bear with me as I transition this site and know that this will be my focus for some time, along with continuing to grow as a photographer and visual artist.