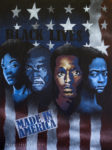 "We People…"
This painting took much longer than i thought it would.  Looking back on the process, I can see where it was really a collaborative effort between what I thought it would be and what the canvas allowed me to put on it.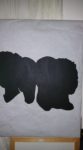 Anyone who knew me during my college days, knows how passionate I am about the music of Ladysmith Black Mambazo.  So much of their music forced me to think and to feel, much the same way that a few others forced us to rethink and to begin to feel ourselves in the 60's and 70's.  I believe that now, for me, i am in the midst of what LBM referred to as a "Journey of Dreams."  There have been wonderful days in my life that felt like a dream come true…there have also been times where the dream was more of a nightmare.  It is not my view of anyone else's journey.  It is insight into my own and my attempt to cope with it.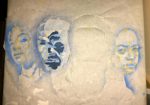 This painting has made me feel so much.  The process took me back to the days of having to go to the back door of the hospital to the 'negro' waiting room; it took me back to being on stage at predominately white elementary schools to show those teachers that little black school kids could read and comprehend; it took me back to getting new books in school and seeing that they had already been used; it took me back to the many times i was called the "n" word by people I thought were my friends; it took me back to the elitist treatment that my tennis players got when we played a majority university in Chattanooga; it took me back to being pushed against a police car in my own neighborhood and frisked; it took me back.
"We People Who Are Darker Than Blue"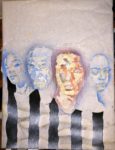 What I do, I do.  It is my interpretation of events, of situations, of conditions.  This painting took a bit longer to complete because I had to accept the position that i am in as an artist, as a creative, as a human being.  The lights are on…
"We People Who Are Darker Than Blue", 30″ x 40″ acrylic painting on stretched canvas