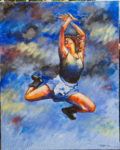 I always feel a sense of relief when i sign a painting. To me, it marks a completion. This one, I had an idea, but for most of it, i really didn't feel where it was going. In the end, it took me where it needed to go and I am, this morning, appreciative of that.
This painting started as an image in my head for practice. I seem to always have something to work towards, something bigger. This painting actually woke me up and screamed, "I am big enough!" This one would not allow me to simply make it a "practice piece". It became something more.
The images of the process seem to show a concerted effort. Believe me when i say that the painting knew more than I did what was going on.  A few hours before I finished it, I finally let go and let the painting decide. I stopped trying to control the flow and just got on board with it.  Needless to say, it was then that I began to feel it.
In some ways, i'm happy that its finished.  In so many other ways, i wish the experience with this one could have continued as I feel that we were on one accord.  Looking forward to the next one, the next experience, that next feeling.
Thank you to the amazing Jameka Oates for pulling out the pose for me. So many concepts in mind, and i'm sure more will come.  I know we will do a lot of work together!