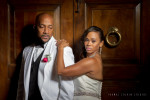 Tiffany and Girard seemed like two puzzle pieces perfectly fit together the very first time I met them. Their personalities are so much alike that they seem to be on the same page no matter what it is. Girard and I, being a visual artist himself, made a connection and the two of them gave me enough of their vision that I could see what they wanted.
This was my second time shooting at the Gala Event Center and the improvements made have really made the venue nice. The ceremony was a reflection of who they are. The event was serious, but so many moments of laughter…and more than a few tears at the reception.
Before the night ended, just as most of the guests were out of the door, we found an area that lended itself for some dramatic images. It really was a wonderful Atlanta night.
Thanks to Kamaree Odom for second shooting and keeping me on task!