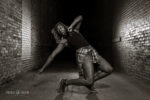 I have been focused on doing paintings that are based on movement, grace and balance.  The most likely subjects in that regard have been dancers.  I've been fortunate that i've met two young ladies who bring all those elements, one of them being Jameka Oates.
I mentioned to a friend that i was looking to shoot a dancer and she mentioned Jameka.  We set up a meeting and from that, decided to go forward with a shoot.  I had not seen Jameka perform but on the high recommendation I got, we moved ahead.
Needless to say, I was surprised and impressed.  Jameka brought those elements that I looked for and a few additional ones… power, strength, explosiveness!
This was a very short session.  I had a few things that i wanted to see and to shoot and she pulled them off.  I'm looking forward to working with her and seeing what kind of magic we can put on print and on canvas!!