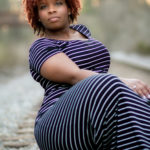 After a few months, I finally feel as though I'm breathing again.  Having met some really good photogs and some great people, I am starting to connect with Hotlanta.
I finally got out and did a bit of shooting.  More importantly, I was introduced to a wonderful area that lends itself to a lot of possibilities for future shoots.
Anthony WestMo Westmoreland, James Pennie, and our model for the afternoon, Eva Woullard, thank you all for allowing me into the circle.