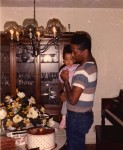 Something about the line of that song that seems to resonate with everyone these days.  Many of us have recently faced some challenging times with the economy, misfortune, loss of a loved one…but through it all, we're here!  Here is a different place for everyone.  For some, its waking up one more day when they never thought they would.  For others, its a job that pays minimum wage but it brings in a check every week.  Still others are fortunate enough to see a new life come into the world and look forward to that development.  For me, its a chance to begin again.  An opportunity see what I can do with what I have.
The song goes, "started from the bottom now we here"…but thanks to the gifts passed on to me, I'm almost certain that they, in many ways, made sure that I'd never quite have to start at the bottom.  Stay with me on this.
I honestly believe that certain talents  are passed on from one generation to the next.  In my days of doing art shows, I was often asked where the talent came from.  Was it my mother or my father?  I always knew of my grandfathers skill as a talent brick mason and as someone who, presented with a challenge and five minutes, could figure out a way to get anything done that he needed to get done!  With my fathers research, I was able to find that my grandfather came from a long line of skilled craftsmen who were able to think and to create.
My venture into photography as a business does have a beginning not so very long ago.  In that respect, I "started from the bottom…"  I'm having to learn how to run a successful photography business, how to manage my time as it relates to organizing photoshoots and editing time, how to budget for new equipment that will help increase productivity and image resolution and enhancement, and how to market and advertise as a photographer and businessman (notice that there was not ONE mention of being a great photographer mentioned in all of that!).
All of these I'm learning on the fly.  I'm watching workshops online, reading articles, talking to photographers who are running successful businesses, and learning to be a complete business owner.  But, I don't come to the table empty handed.  I am the son of a creative person, who was the son of a creative person, who descended from creative people.  I spent 20 years creating stunning, visual images with paint, charcoal, graphite…whatever was available to me.  I can see things that most of those who started in photography ahead of me, are working to develop.  In that sense, getting more familiar with the equipment will put me ahead of many who will need time to develop their creative side.
"…now we here!"
So much of my world centers around family.  As I type this, I took a break to talk to that one person who just brings life to my world…my wonderfully smart, intelligent and creative daughter. 🙂  *pausing for a proud daddy moment*
Much has changed in the last five years.  I've become a grandfather twice (and number three is due in November), I became one of the unemployed, I lost the absolute best friend and father that any person could ever ask for, and I gave up the life that I knew for a life that I can only imagine.  My role is much clearer now, as a father, uncle, brother, son and granddad, and for those reasons this a wonderful growth experience.  I can honestly say that if my future life is a train, there are times when, while I can't see it coming down the track, I can sometimes hear a faint whistle in the distance.  Because I'm not quite starting from the bottom, that whistle seems to be just a bit closer than it was before.