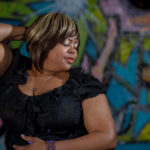 The last week and a half, the weather in Atlanta and the surrounding area has been splendid.  Temperatures in the low 60s to mid 70s, some cloudy days and some sunny days.  Truth be told, in doing location photography, i'm a fan of the cloudy, overcast days.  Those clouds just create such a wonderful, natural softbox that lights up a subject nicely.
On thursday, I had the pleasure of shooting with Princess Coleman, probably best known as a very good makeup artist (MUA) in the Atlanta area.
An hour or so into the shoot, we were joined in the shoot by friend and fellow photog, Rawle Harris.  With the sun going down, we were able to capture some unique shots.  The 3 final shots here show some of that uniqueness, as the sun is going down, and the final 2 are after sunset.
Thank you Princess, and thank you Rawle for coming out and contributing to a good afternoon/early evening of shooting.