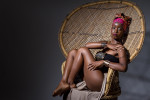 Let me start by saying, I love doing creative, concept type shoots (I guess this is why i love shooting seniors so much.). In my wildest of dreams, I would love to be a commercial photographer. For now, doing some shooting for model portfolios will have to satisfy that. In no way am I trying to diminish the passion I have for model portfolio sessions. It is actually the perfect platform to prepare me, since I can be as creative as I desire while adhering to some of the portfolio guidelines.
Getting to shoot some images for Ternura recently was a special test for me. It was my first time shooting in a new studio, and Ternura knew what she wanted. Those two things fit me perfectly as I believe myself to be a visual problem solver.
This session had a purpose. She is submitting to be an extra in an upcoming feature film being shot in Atlanta. I hope she gets it and I really hope that my images will help get her an opportunity.