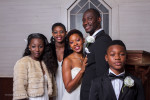 Nicole and Jermaine's "December in Dothan" wedding was in so many ways a culmination for me. I first saw Nicole when she was about 18 months old, then not again until she visited me on the tennis courts at Alabama A&M. It just so happens that Jermaine was a standout basketball player there who I remember most for having the highest GPA on the men's basketball team for a couple of years.
Their wedding, while it seemed to be the union of two totally different personalities, was quite the opposite. Both of them are full of emotion, of nerdiness, and of balance.
These two families, now one, have an incredible amount of that balance…and it will continue to grow as they do.