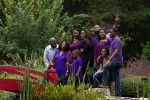 Out at the Dothan Area Botanical Garden to assist my friend Debbie Pearson with her shoot of the Mitchell family. Debbie and I met up at the venue a day before because I'd never been there but had heard a lot about it (also because I got my days mixed up on a meeting I thought I had there). The DABG is a beautiful place with a number of areas to shoot in.
The next day, I got there and they were finishing up a pose. As they moved to a different location, Debbie let me know that the boyfriend of one of the young ladies planned to propose to her at the end of the shoot. I got a lil excited, as I sometimes do, and retrieved my camera from the truck before heading over to the Koi pond.
After Debbie got the family shots, it was time to get Jasmyn onto the bridge with Juan. After some pushing from her sister, she made the steps that changed her life.
My sincerest congrats to Juan and Jasmyn and the entire Mitchell family. I look forward to the memories you all create over this next chapter!