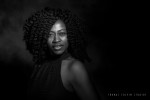 La'Sonya and I talked about shooting some months ago, but either she was on her way in as I was on my way out. I think around thanksgiving, we decided to schedule something for the December holidays.  Needless to say, neither of us could have imagined the turbulent weather we would have in south Alabama.  While we haven't gotten outside to shoot yet, we did manage to get an hour or so indoors.
I can't count the years that I've known La'Sonya. There have been quite a few!  This was a partial session with a partial idea that she wanted to do to mark her 50th birthday. Little did she know but a day or so before we shot, I made a decision to begin offering a new genre of photography for women and their families.  More details later.
I hope we get to finish this on her visit. If not, then we are already talking about some shoots in the hot summer months for both of us!
So far, well done, La'Sonya… well done.