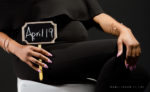 I met Kayla as a high school senior.  We met at her high school and had a great time getting her senior shots in before the rain came and before night fell.  Just before we finished, her mom showed up and I got to meet her as well.  The session was great and I think the 3 of us connected, although briefly and had a really good afternoon.
The end of December, Kayla reached out to me and said she was looking to have some maternity photos done.  Although I no longer lived in Atlanta, that connection that we made that afternoon at her senior session meant that I had to be there for this special moment.  I am so very glad that I was.  We reconnected and picked up where we left off with laughs and a comfort level where she trusted me to take her ideas and see them through my eyes.
Thanks so much to Shoccara Marcus for the studio, for Tommie Williamson for hanging out with me and helping pull off the session, for Yvette Thomas, Kayla's mom, for being there as well, and to Kayla, for allowing me to capture this very special event in her life.