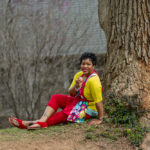 Responding to a request, I joined my fellow photographer Kennesha Powell on an afternoon shoot in Piedmont Park. Not knowing much about the subject, Kennesha told me just a little bit about her and what the shoot was for.
There is no way I could have ever been prepared to meet such an "energizer bunny" of a person!  Jayda came to the location with so much energy, so much personality, and a passion for people and life.  I think that through out this shoot, capturing some of that energy and emotion was foremost in my mind, while at the same time, making sure that the images that she chose for her book covers had to be what she wanted.
I don't think i've ever had the pleasure of shooting someone who was so excited about every single shot!  I typically show a few images to the client so that she can see the direction the images are going. Jayda had to share them with a couple of family members who shared her enthusiasm!
When we ended, we sat around and shared a bit about ourselves and the things that led each of us to that day.  I honestly believe that we were all supposed to connect with each other that day.  It was an experience, to say the least.  Thank you so much Kennesha for inviting me, and thank you Jayda for the presence that you are.
I will never forget her statement that she had "never cried at a photoshoot before."  Believe me Jayda, when the shoot ended, we too "were in tears; not only because it ended, but because it happened!"