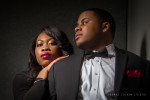 It is absolutely amazing how many circles we find ourselves in during this journey.
I met Deverick on campus at AAMU while visiting the office of the Dean of the School of Engineering, a graduate of Dothan High, Dr. Chance Glenn.  Deverick's father and uncle are from Dothan and I remember them being solid basketball players. I knew his uncle moreso than his dad since we were closer in years.
I met Parijeana the day of the shoot and she told me that her mom had decided to come. When her mom stepped out, it turned out to be the wife of a longtime friend and coworker from AAMU. (still shaking my head at the coincidence)
I don't know if I've laughed so much at an e-session as we did that day. I'm not going to spill the beans on "Mr. Flexibility", or should I call him "Aquaman"??  Either way, this was a fun day. I'm sure if we had more time, we would have still been shooting.
I'm looking forward to seeing you guys in September, back in Huntsville