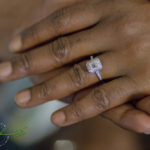 Warm moments really get to me, but you know me.  Can't get caught on tape letting it go!
DC called me to let me know that I needed to be there because he wanted me to capture him "doing it right!"  Needless to say, "he went to Jared"…literally!
Felicia never saw it coming and could hardly contain herself.  I've gotta say, this is what makes it real special for me.  I've known DC for a LONG time and I know the guy that he is.  Having spent some time getting to know both of them, I can honestly say, "they fit!"
I am so looking forward to capturing their special day in April.
…and lil Miss Aunica gave me some valentine's candy, so she's my new lil niece!!