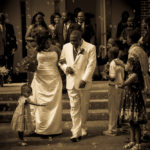 It's always fun to shoot with a family that I've known so long.  In a sense, I've watched Doug(DC) grow up and when asked to capture his wedding images, I wanted to make sure that he and Felicia got photos that would bring a smile to both of them for many years to come.
There is always laughter in their house, and somehow, it found its way into their special day.  I'm sure it will always be a part of who they, and their friends, are.
Thank you both for letting us be there with you.