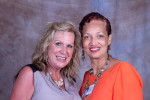 On Friday and Saturday, June 12 and 13, I had the privilege to be on hand to photograph the Dothan High School Class of 1975 40th Reunion.
Some of this class I have known most of my life as students of my parents, or their exploits in sports. One of those of this class, was present in spirit and I could not think of this class without thinking of my friend, my dear brother, the late Erwin Jackson.
The 70's was a time of change in Dothan and much of the country. It was a time that set the stage for what the city is today.  These two nights were not about the changes, then or now…it was a weekend to remember, for many, the more than 40 years since they were classmates and friends. I saw people who had not seen each other since their graduation day, embrace and immediately went back in time to their senior year of high school.  It reminded me that no matter what, the memories, the friendships, those continue on.
Thank you, class of '75, for giving me reason to look forward to my own reunion…and your next one!