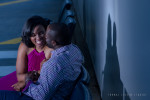 Teamed up with Kamaree Odom of Social Shots Photography to assist with the e-session for Dani & Idoreyian. This fun-loving pair started their session at the Delta Flight Museum and ended it at historic Marietta Square.
It was a hot day outside, but once these two found their comfort zone in front of the camera and lights, the heat certainly moved with them!
Based on the fun and laughter on this day, theirs is going to be a wonderful wedding event!