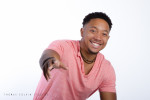 Sitting in the studio today, talking with this absolutely amazing young man, left me even more impressed than I had been.
An athlete, an intellect, and a survivor at the most basic level, Chris "Spud" Lester is embracing absolutely everything about life. Since his diagnosis of leukemia, he has run the entire gamut of existence from enjoying all that traveling the world can bring, to struggling to merely feed himself for one more day.
Chris' is not a rags to riches nor riches to rags story. It appears to me, that it is more about a revelation of life and those things that some hold so very dear, while others seem to discount with apathy. Life, living, growth and development are the things that he treasures. It is evident to me that he has always embraced them. He would not have achieved the things in life prior to his diagnosis if they were not.
Today, we talked for a while. We laughed a bit. We shot some photos.  I hope that I was able to capture some of what he explained he was looking for.
He will be making an announcement soon, or later, depending on his own timeline. His story will be at the center of that announcement.  I am looking forward to that and I do know this one thing.  How his story evolves is going to be unique and one to watch!
He appears to have learned so much, become so very wise in his few years on this earth. I feel honored that he chose me to work with on his lifelong project.  More than that, I am humbled to have him as a friend.