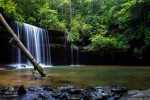 About the second week in July, I noticed an event on facebook that caught my attention.  Some of my photog friends were hosting a photoshoot at a waterfall in Alabama.  I always enjoy hanging out with them and doing what we all enjoy so much, and since I was going to be in Alabama anyway, I asked if I could join.  They agreed and my weekends activities were set.  8 am shoot saturday morning followed by a shower and and a drive to Birmingham to visit my daughter and her family, followed by my cousin's Pamper Me Pretty event that evening in Vestavia Hills.  I always look at events like this as a chance to hang out for a while, with family that I don't get to see as often as I like.
Up early on sunday, I left before anybody got up and headed to Double Springs, AL., a place I'd never been to before.  As luck would have it, my gps signal couldn't join me for the last few miles, and I had to do what people have always done when traveling…..stop at a gas station and ask for directions! (felt weird, but the guys sitting in front of the gas station were so helpful)  About 2.5 hours later, I caught up with the crew I was supposed to meet and together, we found our way to the location.  How long we'd been driving around is a story left for another time.
It was a walk through the forest, not as difficult as the walk to Mechanic Falls in Tenn., but carrying a backpack of gear in the middle of a hot day in Alabama is no joke.
We finally got to the falls without injury and the sight was well worth the walk to get there (yeah, it was mostly downhill, which meant it would be mostly uphill to get back to the vehicles).
I spent the day with some good people.  I met some new friends and hope that I was able to share some of the little that I know with them.  I believe we got some good images and discovered a new location that I never knew of in the half century that I lived in the state.  I'm sure that I could have given up both of the times that I almost turned around before catching up with them; but, what I gained in time well spent with them is beyond measure.