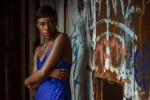 I'm beginning to notice just how much I tell people that I'm always working to get better.  It's a true statement, but at what point is saying that enough?  I realize how empty that is while at the same time it is an honest reply.  What exactly am I working on to get better?  What aspect of what i'm doing am I trying to improve at?  Who really has the time to listen to me ramble on and on about the dreams that I have for myself or the lofty goals that I see in my head but haven't put into words yet (I have done what you told me to do, Livingston, but I haven't refined them to make them as specific as I need to).  At any rate, I am always looking for a chance to shoot, and being my own harshest critic, I am still working to bring more of 'me' into my work!  More about that on a later blog.
A couple weeks ago, I stepped in to do a shoot for another photog who had plans and wasn't able to shoot some images for a local MUA (makeup artist).  As it turned out, she wanted to shoot at a place that I had heard of but had not had to chance to visit…The Old Atlanta Prison Farm.  It turned out to be much more of an experience that I could have conceived.  Yep, imagine a slightly newer version from the movie Sounder.
The OAPF is a place that conjures up all sorts of things in the imagination.  The things that could have gone on at that place during its "hey day", and the kinds of things that quite possibly go on there now.
I got there and Krysti was already well into doing makeup on Demi on the 2nd floor of the building (there was no roof on the 2nd floor, apparently a fire had burned it off).  We were joined shortly after by Unique and her mom.  After working with them for a couple hours, it seemed that we'd all known each other much longer than just that day.  The shoot went well and some friendships were forged.
I'm looking forward to working with all of them quite a bit in the very near future.